There is no other 1960s intellectual figure whom Timothy Leary came to admire more than Marshall McLuhan.
He considered McLuhan's famous quotes – "The medium is the message" — the most important cultural insight of the '60s, a decade saturated with insightful and lasting one-liners, some of the most famous coming from Leary's own brain. Leary has even credited the world's foremost media theorist with giving him the pep- talk that resulted in his own famous mantra: "Turn On, Tune In, Drop Out."
In 1964, when LSD was fast becoming a national issue on a trajectory that eventually made it the most vilified drug of the decade, McLuhan's treatise Understanding Media became (alongside The Tibetan Book of the Dead) the latest roadmap for Leary's positioning on the subject that had increasingly preoccupied him since he and Richard Alpert had been forced out of Harvard, where they had been doing ground-breaking research on psilocybin, LSD and DMT during the early 1960s.
McLuhan argued that all media are "extensions" of our human senses, bodies and minds, that "amplify and accelerate existing processes." It was the medium itself, regardless of the content, that was the message.
He could have been speaking of LSD as much as a television screen.

In McLuhan's estimation, the "only sure disaster would be a society not perceiving a technology's effects on their world, especially the chasms and tensions between generations."
During the culture wars of the '60s, this became known as the "Generation Gap" and led to a suppression of youth protest culture by the ruling class. The new medium of television in to every living room, from civil right protestors being attacked by sheriffs' dogs to hippies being busted for smoking pot to anti-war demonstrators being beaten by cops to the rows of body bags in the jungles of Vietnam.
During the spring of 1963, as they were being excommunicated from Harvard, Leary and Alpert's parting shot was the publication, in the Harvard Review, of their manifesto, "The Politics of Consciousness Expansion" in which they claimed:
"The effects of consciousness-expanding drugs will be to transform our concepts of human nature, of human potentialities, of existence. The game is about to be changed . . . . Man is about to make use of that fabulous electrical network he carries around in his skull . . . . Prepare your intellectual craft to flow with the current."
It was around this time that Leary and McLuhan met, a pivotal meeting Leary wrote about in his autobiography Flashbacks.
They had a beautiful lunch at the Plaza Hotel in Manhattan in the spring of 1966, following Tim's appearance at the U.S. Senate Hearings on the psychedelic drug "crisis," and shortly before he gave a talk on "The Molecular Revolution" at the first non-academic LSD conference in San Francisco. Leary commented that there was no need to turn on McLuhan to LSD since the professor got high on the yoga of his art form: talk. "He talks in circles, and spirals, and flower forms and mandala forms," Leary said.
McLuhan urged Leary to promote LSD the way advertisers promoted a product: "The new and improved accelerated brain." He advised him to "associate LSD with all that the brain can produce—beauty, fun, philosophic wonder, religious revelation, increased intelligence, mystical romance." But above all, he should stress the religious aspect. "Find the god within." He encouraged Leary to come up with a winning jingle or catch-phrase along the lines of: "Lysergic Acid hits the spot/Forty billion neurons, that's a lot."
McLuhan told Tim to "always smile" and radiate confidence, never appear angry. He predicted that while Leary would "lose some major battles on the way," he would eventually win the war. "Drugs that accelerate the brain won't be accepted until the population is geared to computers."
Leary wrote: "The conversation with Marshall McLuhan got me thinking [that] the successful philosophers were also advertisers who could sell their new models to large numbers of others, thus converting thought to action, mind to matter."
Inspired by McLuhan, Leary took LSD and devoted several days to creating a slogan. He claims he was in the shower when he came up with "Turn On, Tune In, Drop Out." By the end of the summer he was also telling readers of Playboy that "LSD is the greatest aphrodisiac ever discovered."
Psychedelic and empathogenic plants and drugs are historically entwined with electronic and digital technology. The lysergamides, tryptamines, beta-carbolines, phenethylamines and cannabinoids — "tools of enlightenment and transcendental communication" in the words of Sasha Shulgin — are chemical compounds that act as alternative media.
The molecule is the message.
MCLUHAN'S UNPUBLISHED LETTER IN SUPPORT OF PRISONER LEARY
In the spring of 1974, Leary archivist Michael Horowitz was gathering texts from notable writers, scientists, and cultural figures in support of Leary, who since a year earlier had been incarcerated in the California State Prison at Folsom, facing what amounted to a life sentence, officially for cannabis possession and escape, unofficially for his psychedelic drug research and for broadcasting widely, as McLuhan had suggested, the benefits of LSD and marijuana. The plan, which was hatched with Leary during a prison visit, was to publish a festschrift (a collection of essays written in honor of a scholar by his peers) to bring attention to his achievements, his draconian treatment by the law enforcement arm of the U. S. government, and current plight. In the days before internet petitions, one hoped to kickstart a movement that would grow into protest rallies, bring media attention to the injustice of jailing a philosopher for publically expressing his thoughts, and eventually free Leary from prison.
Nixon's downfall as a result of the Watergate scandal seemed to open a crack in the door, and the verdict that sent G. Gordon Liddy, Leary's longtime nemesis, to prison for his role in masterminding the failed Watergate break-in was another positive sign. Nixon and Liddy had been among Leary's most outspoken public enemies.
Tributes were solicited from the "usual suspects," including the Beat writers: Allen Ginsberg, Lawrence Ferlinghetti, Gary Snyder, Michael McClure, Diane di Prima, and Ken Kesey, psychedelic luminaries like Alan Watts, Ralph Metzner, Laura Huxley, and Anais Nin, and most importantly, the American PEN Club, headed by Arthur Miller.
"Be sure to contact Marshall McLuhan," Tim told Michael on a prison visit. "We've had some friendly interactions over the years. He's also the most intelligent man on the planet. I'm sure he'll give us something to use."
McLuhan responded right away with the letter published here for the first time.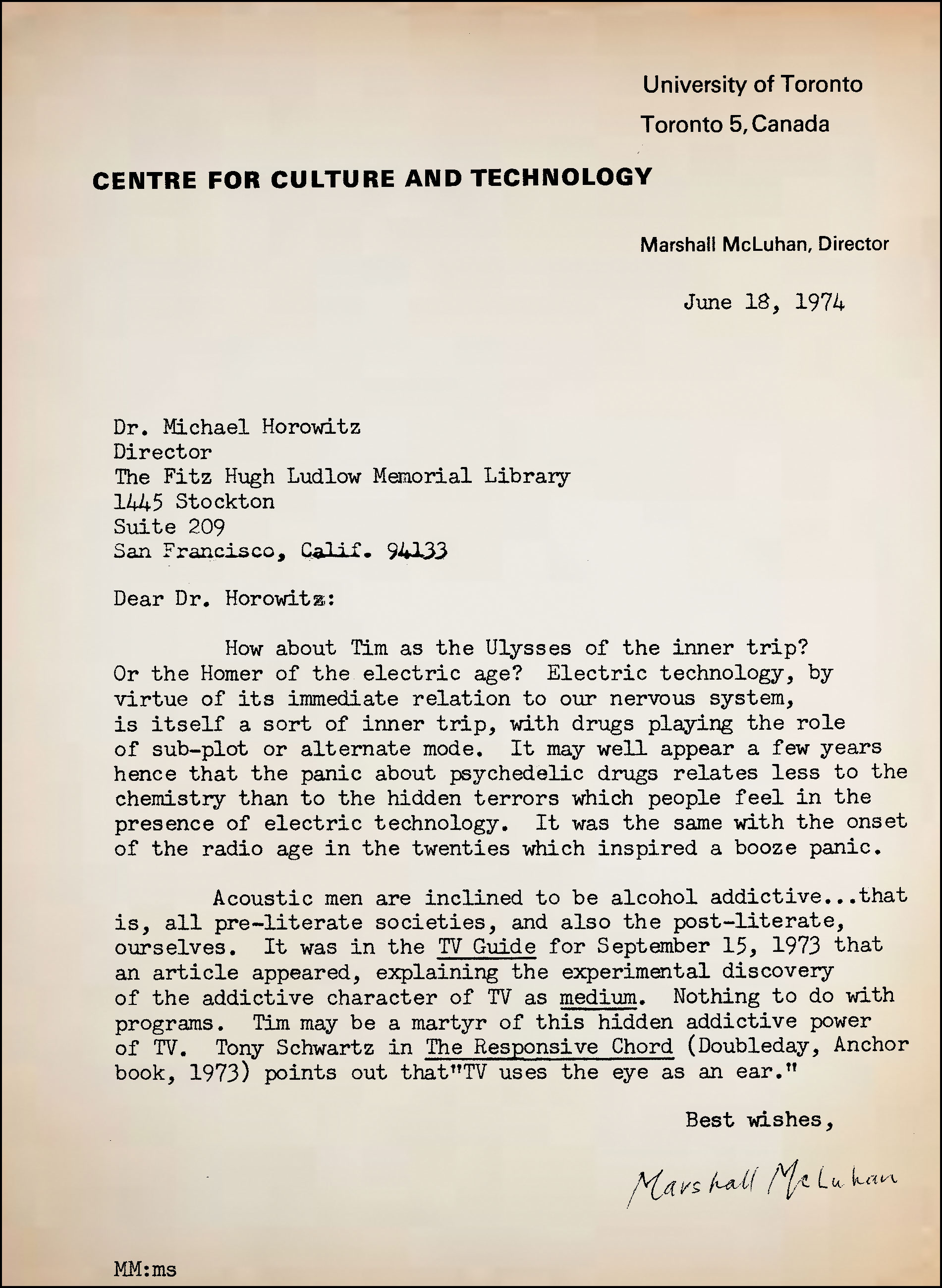 Dear Dr. Horowitz:
How about Tim as the Ulysses of the inner trip? Or the Homer of the electric age? Electric technology, by virtue of its immediate relation to our nervous system, is itself a sort of inner trip, with drugs playing the role of sub-plot or alternate mode. It may well appear a few years hence that the panic about psychedelic drugs relates less to the chemistry than to the hidden terrors which people feel in the presence of electric technology. It was the same with the onset of the radio age in the twenties which inspired a booze panic.
Acoustic men are inclined to be alcohol addictive . . . that is, all pre-literate societies, and also the post-literate, ourselves. It was in the TV Guide for September 15, 1973 that an article appeared, explaining the experimental discovery of the addictive character of TV as medium. Nothing to do with programs. Tim may be a martyr of this hidden addictive power of TV. Tony Schwartz in The Responsive Chord (Doubleday, Anchor book, 1973) points out that "TV uses the eye as an ear."
Best wishes,
Marshall McLuhan
Non nessuna  figura intellettuale come quale Timothy Leary si può dire ammiri di più di Marshall Mc Luhan.
Egli considerava citazioni famose di McLuhan – "il medium è il messaggio" – la più importante intuizione culturale degli anni '60, un decennio saturo di one-liners penetranti e duraturi, alcuni dei più famosi provenienti dal cervello di Leary. Leary ha addirittura accreditato teorico dei media di tutto il mondo con dandogli la pep-talk che ha portato nel suo famoso mantra: " Turn On, Tune In, Drop Out"
Nel 1964, quando l'LSD fu sdoganato talmente rapidamente da diventare una questione nazionale, su una traiettoria che alla fine nel ha fatto la droga più diffamata del decennio, trattato Comprensione media di McLuhan è diventato (insieme a Il Libro Tibetano dei Morti), l'ultima tabella di marcia per il posizionamento di Leary sul soggetto che era sempre lo preoccupati da quando lui e Richard Alpert era stato costretto a lasciare Harvard, dove erano state facendo ricerca innovativa su psilocibina, LSD e DMT durante il 1960.
McLuhan sosteneva  che tutti i media sono "estensioni" dei nostri sensi umani, i corpi e le menti, che "amplificano  e accelerane i processi esistenti."
E 'stato il mezzo stesso, a prescindere dal contenuto, che fa costituisce il messaggio.
Avrebbe poi parlato dell' LSD  paragonandolo allo schermo di un televisore.
Nella stima di McLuhan, "L'unica sicura disastro sarebbe che la società non fosse in bra do  percepire gli effetti di una tecnologia sul loro mondo, in particolare le voragini e le tensioni tra le generazioni."
Durante le guerre culturali degli anni '60, questo divenne noto come il "Generation Gap" e ha portato a una soppressione della cultura giovanile protesta da parte della classe dirigente. La television era in  ogni soggiorno, dal salotto dei  manifestanti di destra civili agli scheriffi, che arrestavano gli hippies che fumavano erba  contro la guerra del Vietnam
Durante la primavera del 1963, mentre venivano scomunicati da Harvard, Leary e Alpe per aver trattato il tema delle droghe nel Harvard Review, del loro manifesto, "The Politics of Consciousness Expansion", in cui si sosteneva:
"Gli effetti dei farmaci di coscienza permetteranno di trasformare i nostri concetti di natura umana, delle potenzialità umane, dell'esistenza. La partita sta per essere totalmente modificata. . . . L'uomo è in procinto di fare uso di quella favolosa rete elettrica si porta in giro nel suo cranio. . . . Preparate il vostro mestiere intellectual e lasciatevi alle spalle il passato . "
Fu in questo periodo che Leary e McLuhan incontrati, un incontro fondamentale Leary ha scritto nei suoi flashback autobiografia.
Si incontratono a pranzo al Plaza Hotel di Manhattan, nella primavera del 1966, dopo l'apparizione di Tim alle audizioni del Senato degli Stati Uniti sulla droga psychedelic in  "crisi", e poco prima che tenesse  una conferenza sul tema "La rivoluzione molecolare" al primo  conferenza non -accademica sull' LSD a San Francisco. Leary ha commentato che non c'era bisogno di accennare a  McLuhan di LSD in quanto il professore ha dal canto suo un'espressività che sfocia nello yoga e nella  sua forma d'arte: parlare. "Mentre parka disegna  cerchi e spirali e le forme di fiori e forme mandala", ha detto Leary.
McLuhan ha esortato Leary apromuovere l'LSD nel modo in cui gli inserzionisti promuovono un qualunque prodotto:. "Il nuovo e migliorato cervello " E lui "L'LSD socio, consigliato con tutto ciò che il cervello può produrre in bellezza, divertimento, meraviglia filosofica, rivelazione religiosa, aumentata intelligenza, "romance" mistica. "Ma, soprattutto, egli dovrebbe sottolineare l'aspetto religioso." Trovare il dio dentro" Ha incoraggiato Leary a venire con un jingle vincere o slogan sulla falsariga di: "L'acido lysergic stende all'incirca quaranta miliardi di neuroni, che è molto."
McLuhan ha detto Tim a " che sorridere sempre" e irradia  fiducia e non è apparentemente mai arrabbiato. Ha predetto che mentre Leary avrebbe "perso alcune battaglie importanti", ha alla fine avrebbe vinto la guerra. "I farmaci che accelerano il cervello non saranno accettate fino a quando la popolazione sarà orientata ai computer."
Leary ha scritto: "La conversazione con Marshall McLuhan mi ha fatto pensare [che] i filosofi di successo sono stati anche gli inserzionisti che potrebbero vendere i loro nuovi modelli per un gran numero di altri, convertendo così il pensiero all'azione, mente alla materia."
Ispirato da McLuhan, Leary ha preso LSD e ha dedicato diversi giorni per la creazione di uno slogan. Egli sostiene che era sotto la doccia, quando se ne uscì con "Accenditi, sintonizzati, sganciati". Entro la fine dell'estate è stato anche dicendo ai lettori di Playboy che "LSD è il più grande afrodisiaco mai scoperto."
Piante psichedeliche e empathogenic e farmaci sono storicamente intrecciate con la tecnologia elettronica e digitale. I lysergamides, triptamine, beta-carboline, fenetilamine e cannabinoidi possono – "strumenti di illuminazione e comunicazione trascendentale" nelle parole di Sasha Shulgin – sono composti chimici che agiscono come media alternativi.
La molecola è il messaggio.
Lettera inedita McLuhan A SOSTEGNO DI PRIGIONIERO LEARY
Nella primavera del 1974, Leary archivista Michael Horowitz stava raccogliendo testi di scrittori importanti, scienziati e personalità della cultura a sostegno di Leary, che da un anno prima era stato incarcerato in California State Prison a Folsom, di fronte a quello che è pari a una condanna a vita , ufficialmente per possesso di cannabis e la fuga, ufficiosamente per la sua ricerca di droga psichedelica e per la trasmissione ,come McLuhan aveva ampiamente  suggerito, dei benefici di LSD e marijuana. Il piano, che è stato covato con Leary durante una visita in prigione, è stato quello di pubblicare un fest chrift (una raccolta di saggi scritti in onore di uno studioso dai suoi pari) per portare l'attenzione ai suoi success,e al  suo trattamento draconiana dal braccio della legge del governo degli Stati Uniti, e la situazione attuale. Nei giorni precedent alle petizioni internet, si sperava di un pò di movimento che potrebbe crescere in manifestazioni di protesta, portare l'attenzione dei media per l'ingiustizia di incarcerare un filosofo per esprimere pubblicamente i suoi pensieri, e alla fine libera Leary dal carcere.
Caduta di Nixon a seguito dello scandalo Watergate sembrava aprire una fessura della porta, e il verdetto che ha inviato G. Gordon Liddy, nemesi di lunga data di Leary, in prigione per il suo ruolo nella architettato fallito Watergate break-in è stato un altro segno positivo. Nixon e Liddy erano stati tra i più espliciti i nemici pubblici di Leary.
Tributi sono stati sollecitati dai "soliti noti", tra cui gli scrittori beat Allen Ginsberg:, Lawrence Ferlinghetti, Gary Snyder, Michael McClure, Diane Di Prima, e Ken Kesey, luminari psichedeliche come Alan Watts, Ralph Metzner, Laura Huxley, e Anais Nin , e, soprattutto, l'americano PEN Club, guidato da Arthur Miller.
"Siate sicuri di contattare Marshall McLuhan," ha dichiarato Tim Michael in visita prigione. "Abbiamo avuto alcune interazioni amichevoli nel corso degli anni. Egli è anche l'uomo più intelligente del pianeta. Sono sicuro che ci darà qualcosa da usare. "
McLuhan ha risposto subito con la lettera pubblicata qui per la prima volta.
7-McLuhan-on-Leary782-con-outline
Caro Dr. Horowitz:
Che ne dite di Tim come Ulisse del viaggio interiore? O la Homer dell'età elettrica? Tecnologia elettrica, in virtù del suo rapporto immediato al nostro sistema nervoso, è di per sé una sorta di viaggio interiore, con la droga nel ruolo di sub-plot o in modalità alternata. Può anche comparire alcuni anni, quindi, che il panico sulle droghe psichedeliche riferisce meno alla chimica rispetto ai terrori nascosti che le persone si sentono in presenza di tecnologia elettrica. E 'stato lo stesso con l'inizio dell'era della radio negli anni Venti che hanno ispirato il panico alcol.
Uomini acustici sono inclini ad essere di alcol dipendenza. . . cioè, tutte le società pre-letterate, e anche il post-letterato, noi stessi. Era nella Guida TV per 15 settembre 1973 che un articolo apparso, spiegando la scoperta sperimentale del carattere di dipendenza della televisione come medium. Niente a che vedere con i programmi. Tim può essere un martire di questo potere coinvolgente nascosto di TV. Tony Schwartz in The Responsive Chord (Doubleday, Anchor libro, 1973) sottolinea che "TV utilizza l'occhio come un orecchio."
Cordiali saluti,
Marshall McLuhan
Per seguire il filo di influenza di McLuhan sul Leary, visitare i Leary Archives Timoteo online e leggere: "McLuhan a Leary, psichedelici e tecnologia elettronica"